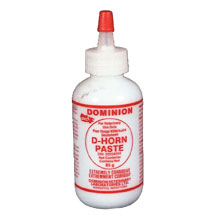 D-Horn Paste - Dehorning paste for your calf

Indications:

As its name suggests, D-HORN paste is indicated to prevent horn growth and remove horn buttons on calves.

Directions for Use:
Apply a thin film on horn buttons as soon as they can be felt.
Caution:
This product is extremely corrosive and should be used carefully.
Keep out of the reach of children.
First Aid:

External - flood with water, then wash with vinegar.
Internal - give citrus juice or vinegar in large amounts, followed by cooking oil.
Eyes - flood with water or 5% boric acid solution.
Call a Physician.
Unit Size:
85 grams and 100 grams
12 x 85 g squeeze bottle or 12 x 100 g jars per carton
COMPARE AND SAVE
Product

Active Ingredients

Percentages

D-HORN PASTE
(DVL)

Sodium Hydroxide
Calcium Hydroxide
Glycerine

42.00%
17.00%
13.00%

DEHORNING PASTE
(Dr. Naylor)

Sodium Hydroxide
Calcium Hydroxide
Glycerine

27.20%
33.30%
13.00%




When the calf is a day or two old, cut the hair off the Horn Bud. Scrape the wax off the Bud and then cover the bud with paste. Use Rubber gloves and rub the paste well into the bud. This will burn the horn roots and the horn will not grow. When calves are born inside, it is advisable to take the calf away from its Mother for about an hour. This is because when cows are inside, they have nothing to do during the day after they have been fed except nurse the calf. Likewise, when Dairy calves are together, they lick each other. So, keep each calf by itself for an hour after it has been dehorned. If it is raining and you are outside, do not apply it as the paste could run down into the calf's eyes. The approximate number is 40. Some people apply more Paste than others. The active ingredient is Sodium Hydroxide. After you have cut off the hair, you will find a small area of pink skin on which there is no hair growing. That is where the Bud will appear and so apply the paste over that area. If you notice that hair is growing over the whole area, then the chances are that the calf is polled. As with Hot Iron Dehorning, if part of the root is left intact, it will grow. The same with d-horn paste, the whole area of Bud root must be covered.
THINGS GO BETTER WITH DOMINION TOP PRODUCTS

| | |
| --- | --- |
| Cattle Supplies | Horse Supplies |
| | |