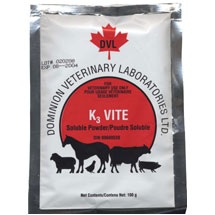 K-3 Vite
Indications:

K-3 Vite is indicated in the prevention of prolonged bleeding in chickens and turkeys due to cannibalism and hemorrhagic syndrome. It is also effective in cases of Vitamin K deficiency in feed.

Directions for Use:
Dissolve 100 grams (1 package) in 4 L water.
Then use 25 mL of this stock solution per 4 L drinking water.
Treat birds for 7 days.
Caution:
Keep out of the reach of children.
Unit Size:
100 grams
50 pouches per carton
K3 VITE vs THE REST
| | | |
| --- | --- | --- |
| Product | Active Ingredients | Size |
| K3 VITE (DVL) (100g) | Menadione sodium bisulphate | 25mg/g |
| VITAMIN K3 - A.P.A | Menadione sodium bisulphate | 25mg/g |
| ANTI-BLOOD - P.V.U. | Menadione sodium bisulphate | 25mg/g |
THINGS GO BETTER WITH DOMINION TOP PRODUCTS

| | |
| --- | --- |
| Cattle Supplies | Horse Supplies |
| | |