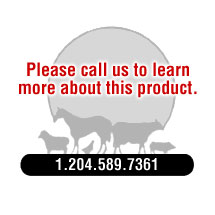 Prednisolone Acetate Suspension 10 mg.mL

Indications:

An injectable form of corticosteroid, Prednisolone is indicated for: ketosis in cattle; bursitis, arthritis, and joint inflammatory conditions involving ligaments in horses; and dermatitis, joint inflammatory conditions of dogs.

Directions for Use:
Administer by intramuscular injection.

Cattle:
Horses:
Dogs:
Caution:
Milk taken from treated animals within 72 hours after the latest treatment must not be used in food.
Treated animals must not be slaughtered for use in food for at least 5 days after the latest treatment with this drug.
Keep out of the reach of children.
Unit Size:
100 mL
25 vials per carton

THINGS GO BETTER WITH DOMINION TOP PRODUCTS

| | |
| --- | --- |
| Cattle Supplies | Horse Supplies |
| | |