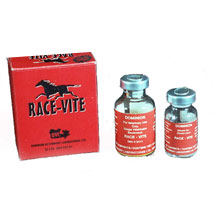 Race-Vite
Indications:

Race-Vite is a lyophilized hi-potency B-Complex with Vitamin C in a 10 mL two-vial compartment. Used for the prevention and treatment of Vitamin B-Complex and Vitamin C deficiencies in large animals.
Race-Vite is designed for addition to solutions of electrolytes and amino acids in the treatment of race horses suffering from the effects of stress dehydration.
Race-Vite may also be given prior to stress producing activity to aid in combating fatigue.
Directions for Use:
Withdraw the liquid diluent from the vial with the needle and insert into the vial with the dried portion.
Shake the vial gently until the product becomes a uniform solution.
Allow the product to stand and warm to room temperature (about 15 minutes).
Wipe the plunger-stopper with alcohol and insert the needle into the centre of the stopper.
Invert the vial and withdraw the dose.
Dosage:
Horses and Cattle: 10 mL
Calves and Colts: 4 mL to 8 mL
Sheep and Swine: 2 mL to 5 mL
Dogs and Cats: 1 mL
Caution:
Once reconstituted Race-Vite should be used as soon as possible.
Any unused product should be kept refrigerated and used within two weeks.
Keep out of the reach of children.
Unit Size:
10 mL
1 unit per box
RACE-VITE vs THE REST
Ingredient
RACE-VITE
(DVL)
COMPOUND 150
Sterivet Vetoquinol

VITAMIN B Complex
Vetoquinol-P.V.U.

Thiamine HCI (B1)
Riboflavin (B2)
Pyridoxine HCI (B6)
Niacinamide (B3)
Cyanocobalamin (B12)
Ascorbic acid (Vitamin C)

20mg/ml
3mg/ml
5mg/ml
75mg/ml
1000ug/ml
100mg/ml




10mg/ml
10mg/ml
15mg/ml
50ug/ml

100mg/ml
5mg/ml
5mg/ml
125mg/ml
100ug/ml

THINGS GO BETTER WITH DOMINION TOP PRODUCTS

| | |
| --- | --- |
| Cattle Supplies | Horse Supplies |
| | |