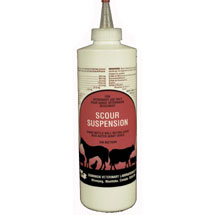 Scour Suspension

Indications:

Scour Suspension is indicated for use in the treatment of diarrhea (scours) and enteritis when caused by organisms susceptible to Neomycin and Succinylsulfathiazole.
Directions for Use:
Shake well before using.

For baby pigs:
Under 2.5 kg give 1 mL daily
Over 2.5 kg give 2mL daily
Treatment may be repeated for up to 4 days
Dogs, Cats and Lambs:
Give 2 mL per body weight
Divide into 2 doses daily
Reduce to half after 2 days
Repeat up to but not more than 5 days
Calves:
Give 2 tbsp. daily
Treatment may be repeated for 2 - 3 days
Caution:
Treated animals must not be slaughtered for use in food for at least 30 days after latest treatment with this drug. (Cattle)
Fourteen (14) days for other animals.
Keep from freezing.
Do not administer to lactating cattle.
Keep out of the reach of children.
Unit Size:
250 mL
12 bottles per carton
SCOUR SUSPENSION vs THE REST
Product

Active Ingredients

Size

Scour Suspension (DVL)


Neomycin Sulphate 20.0mg
Succinylsulphathiazole 96.0mg
Hyoscyamine Sulphate 2.5ug
Kaolin 175.0mg
Atropine Sulphate 2.5ug
Tri-calcium Phosphate 21.0mg
Pectin 8.0mg


500 ml
Scour Solution (APA)
Neomycin Sulphate 50mg
Methscopolamine bromide 0.25mg

500 ml

Scour Treat (Citadel)

Neomycin 4.4mg
Sulphathiazole 26.4mg
Sulphamethazine 8.8mg

500 ml