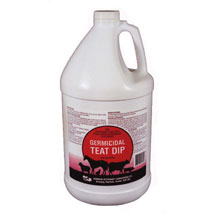 Teat Dip

Indications:

Germicidal Teat Dip is indicated for use as an aid in the control of bacteria that cause mastitis.

Directions for Use:
Use full strength. immediately after each cow is milked, dip the teats in Germicidal Teat Dip. When a cow is being dried off, the teats should be dipped once a day for 3 to 4 days after the last milking. Wash the cow's udder and teats before milking.
Caution:
Avoid contact with food.
Do not use for cleaning and/or sanitizing milk equipment.
Keep out of the reach of children.
Unit Size:
4 litres
4 jugs per carton
TEAT DIP & Biodine vs THE REST
| | | |
| --- | --- | --- |
| Product | Active Ingredients | Percentage |
| Biodine (DVL) | Titratable Iodine Equivalency | 1.75% |
| Teat Dip (DVL) | Titratable Iodine Equivalency | 1.00% |
| Teat Dip (Citadel) | Titratable Iodine Equivalency | 1.00% |
| Teat Dip (ECOLAB) | Titratable Iodine Equivalency | 1.00% |
THINGS GO BETTER WITH DOMINION TOP PRODUCTS

| | |
| --- | --- |
| Cattle Supplies | Horse Supplies |
| | |