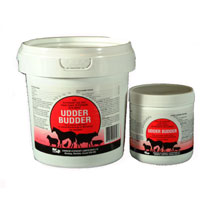 Udder Budder

Indications:

A penetrating antiseptic ointment, Udder Budder is indicated for use on the udders and teats in the treatment of chapped teats, surface cuts, and abrasions. It is also a soothing massage for hard udders to promote better circulation.

Directions for Use:
Apply several times daily with gentle, but thorough massage action.
As a dressing for minor wounds, apply to gauze and then cover the affected area.
Caution:
In case of deep or puncture wounds, or serious burns, consult a Veterinarian.
If redness, irritation or swelling persists or increases, discontinue use and consult a Veterinarian.
Keep out of the reach of children.
Unit Size:
200 grams, 400 grams, and 2 kilograms
12 x 200g, 12 x 400g, or 6 x 2 kg jars per carton
UDDER BUDDER & B.B. JELL-UDDER BALM vs THE REST
Product

Active Ingredients

Size

UDDER BUDDER (DVL)



Carbolic Acid (phenol)
Oil of Turpentine
Eucalyptol
Lanolin
Methyl Salicylate
Creosote
(in a soothing ointment base

0.3%
6.0%
1.0%
5.0%
0.3%
0.2%

B.B. JELL-UDDER BALM (DVL)
Carbolic Acid (phenol) 2%
(in an emollient ointment base)

2%

UDDER BALM (Dr. Naylor)

8-Hydroxyquinoline
0.14%
THINGS GO BETTER WITH DOMINION TOP PRODUCTS

| | |
| --- | --- |
| Cattle Supplies | Horse Supplies |
| | |