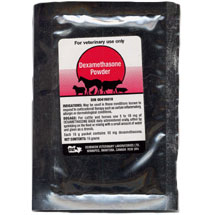 Horse Medicine Drug Dexamethasone
Indications:

Dexamethasone Horse Medicine powder is indicated for those conditions known to respond to steroid therapy such as inflammatory, allergic or dermatologic states.

Horse Medicine Drug Directions for Use:
Cattle & Horses:
5 - 10 mg of Dexamethasone Base daily administered orally, either by sprinkling on the feed or mixing with a small amount of water and given as a drench.
Each 15 gram packet contains 10 mg dexamethasone.
Horse Medicine Drug Caution:
Keep out of the reach of children.
Horse Medicine Drug Unit Size:
15 grams (3 teaspoons)
72 pouches per carton
DEXAMETHASONE POWDER vs THE REST
| | | |
| --- | --- | --- |
| Product | Active Ingredients | Size |
| Dexamethasone powder (DVL) | Each 15g Packet contains 10 mg Dexamethasone | 15g |
| Dexone (Jaapharm) | Each 15g Packet contains 10 mg Dexamethasone | 15g |
| Azium Powder (Schering-Plough) | Each 15g Packet contains 10 mg Dexamethasone | 15g |
Horse Medicine Drugs from Dominion Veterinary Laboratories guarantees you top quality made-in-Canada products. For instance, horse drugs, horse medications, horse products, horse medicine. Dexamethasone-21-isonicotinate is an esterified form of dexamethasone that is approved and marketed for horses. Work in laboratory animals has shown it to be more powerful and longer acting than the parent compound. Multiple laboratory tests on different species have shown significantly increased anti-inflammatory activity and duration of response, without increases in catabolic effects or adverse effects on electrolyte metabolism. In the horse, corticosteroids are given systemically to decrease inflammatory and immune responses. They are used systemically in high doses in emergencies for anaphylactic reactions, spinal chord trauma, or shock. They are used in lower doses to treat allergic reactions such as heaves, hives, itching, and inflammatory diseases including arthritis.
SAVE TIME & MONEY WITH LOWER PRICES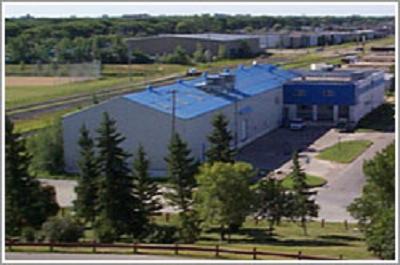 | | |
| --- | --- |
| Cattle Supplies | Horse Supplies |
| | |